Red42 MicroThinkTanks: Silke & Niels in thoughtful dialog with peers, partners & heroes
---
The third Red42 #MicroThinkTank happened in Barcelona, Spain, on 14 September 2018
We had been eager to have this think tank conversation. We have been fans & users of these guys´ work & products for a while now. And while our MicroThinkTanks are supposed to be no more than 90-minute conversations, we ended up spending large part of a day with product designers Luki Huber & Gerrit Jan Veldman, the creators of Manual Thinking.
If you have not heard of Manual Thinking yet: One way to explain it is that it is the single best thing that happened to team work since the invention of the flipchart. And that was in the early 1930s!
In short, Manual Thinking is physical collaborative work material. It is not method, as Luki reminded us during the day, but a set of manual thinking tools that support all kinds of group work method - such as product design, design thinking, concept work, mind mapping, and much much more. The Manual Thinking material, which includes "maps", "stickers", "boxes" and more, allows groups/teams to think, reflect, create, document and store much more effectively than by using common materials such as post-its, metaplan boards, wall papers or canvases. 
You can (and should!) buy Lukis and Gerrits Manual Thinking book here. It is available in four languages (English, German, Spanish and Dutch). We recommend visiting their website and take a good look at the products and services around Manual Thinking - especially if you work in the context of Learning & Development, as a trainer, on projects and innovation, in the context of Agile or organizational development. Luki´s design work for the legendary elBulli restaurant was also recently published in a design book (with a foreword by Ferran Adrià). Luki and Gerrit are very active on Instagram.
What have I learned here today? (Luki, Gerrit, Silke, Niels)
---
The second Red42 #MicroThinkTank happened in Portland, Maine (USA), on 5 May 2018
After Niels spent a few days with Agile nonconformist-slash-reformer Daniel Mezick (author of the books The Culture Game and The Open Space Agility Handbook), Silke used the opportunity to talk with Daniel about fast organizational transformation by inviting and engaging everyone. Daniel promotes large-scale engagement, as opposed to imposition of Scrum, or Agile: "Tolerance of the coercive imposing of Agile practices on teams, sadly, has become a cultural norm of the Agile industry. This tolerance of force is profoundly disrespectful of people. It is also one the most pressing issue of our time," Daniel says in his essay about what he calls the Agile Industrial Complex.
The MicroThinkTank conversation between Silke and Daniel was about how to help companies develop a self-organized organizational model, within a very short time frame, and without consultants, without imposition and coercion. It also covered how to put existing methods and social technology, to good use in this context: 
OpenSpace Technology, for example, is a powerful and proven method. But while it has been widely adopted as a framework for public conferences (especially in the shape of BarCamps and Unconferences), it has been much less applied within the context it was originally designed for: Organizational Development, or internal use within organizations, for large-scale engagement.
Dan´s OpenSpace Agility approach makes this right: It puts Open Space conferencing, and large-scale engagement, at the heart of agile change. Which is a notion that we at Red42 find highly inspiring. "This is likely to be the underpinning to the future of organizational development: It is clear, it is fast, it is based a hundred per cent on self-organization - without dependence on consultants, or external experts", Silke said.
What have I learned here today? (Daniel, Silke)
The potential of Open Space for organizational development has been much under-estimated

To offer companies effective, "transformational" org development requires method that is fast, and strictly limited, time-wise

The method of change must fit the solution (Agile, Beta)!

For organizational change to produce self-organization and decentralization requires approaches that are true to the very same principles.

Classic consulting does not match this - it inhibits self-organization!

There are many ways of guiding/supporting clients in "transformation": They all require clear settings, principled approaches, and external expertise available on demand (not: abundantly).

Limiting the duration of the external coaching/support is key!

Influencing organizations for only short periods of time is crucial for effective, contemporary org development.. "100 days" (short-term) is enough!

Concept & setting beat charisma & quantity of consultants!

The quality of interventions requires experience and prudence from external experts - and thus few, "mature" advisors
---
The first Red42 #MicroThinkTank happened on 20 December 2017, in Wiesbaden
Silke Hermann and Niels Pflaeging spoke with learning portal-/curation expert Stefan Diepolder. Stefan works with (mostly larger) German companies on building & designing knowledge and learning platforms. The topic of the Think Tank conversation was the curation of organizational learning economies - a topic that inspires both Stefan and us at Red42.
"If an organization wants to create a new learning culture, then it must create a learning infrastructure, or ecology first", Stefan says.
Check out the documentation of shared insights below!
What have I learned here today? (Stefan, Silke, Niels)
(adapted from the flip chart documentation in German shown below)
Curation (different than: paternalism) is already embedded in many processes!

When you talk about things, there will always be linkages that will advance your thinking

The value of content depends on the person that recommends/presents the content

One must think curation in the context of lifestyles

We must always & simultaneously cater to distinct "learning types", or "learning personalities"

The context/boundaries must allow for individualized learning experiences

It is necessary to burst the filter bubbles, if you want to allow for truly new insight

Digitalization: Is it the same (or not) as automatization?

A learning session about "digitalization" should never be called "digitalization"

Seminars will vanish

Curation will be of high importance as a role for organizations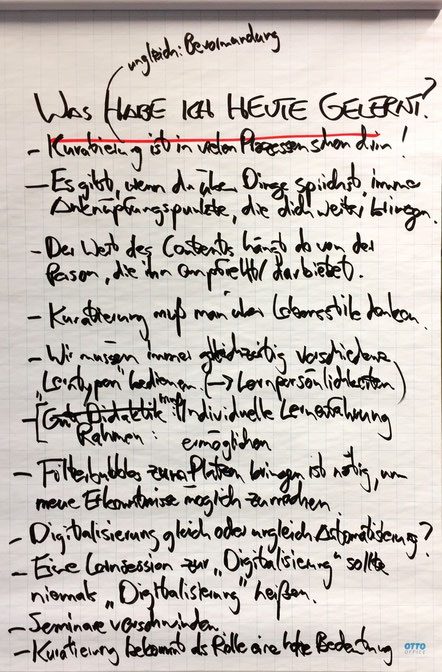 ---
Get in touch with us if you want to do a MicroThinkTank, together!